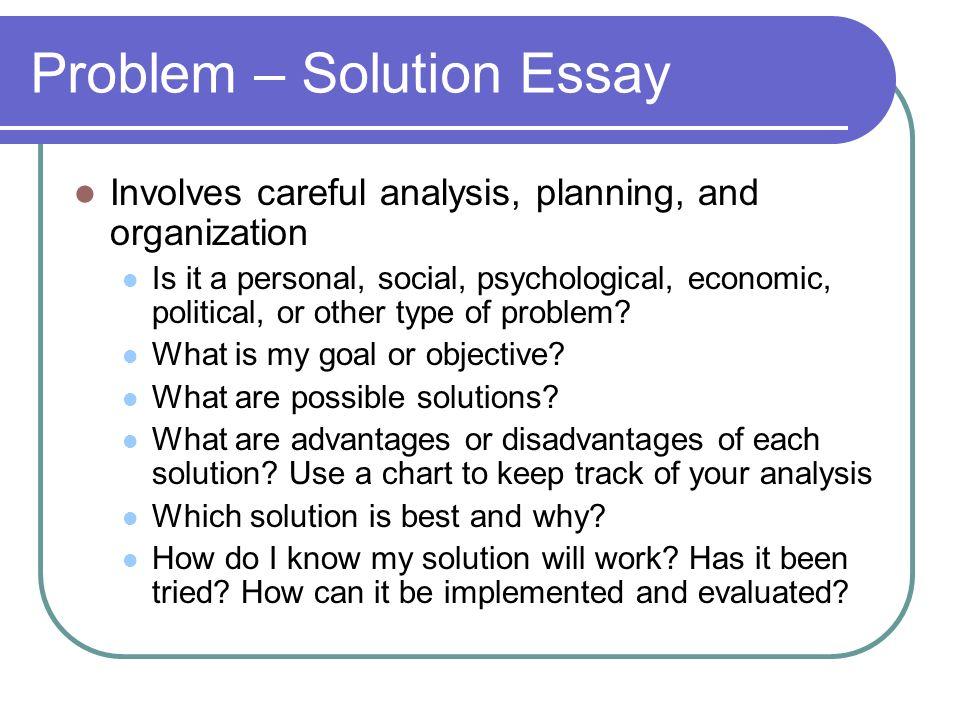 Problem and Solution Essay? No Problem!
Essays are a major practice in school or university tests and even international language certification exams. Among them is a problem and solution essay. In this article, we're going to cover the essentials of proposing a solution essay in answer to global and personal problems.
Problem and Solution Definition
We have no need in anybody telling us what a problem is when we get stuck in a harmful, displeasing situation, standing on our way as an obstacle we strive to surmount. We also know that a good solution is a means of successfully dealing with that complicated situation. A problem is what prevents us from living as fully as we want, on whichever level; a solution often haunts our dreams, makes us anxious to find it, or motivates us. Problems and solutions are integral parts of our lives. For that reason, writing a problem and solution essay is a business more important than we usually give it credit. You never know who may happen to read one or when you may happen to write one - perhaps, both you and some reader might really need to take a look at the exact same problem or solution that the essay talks about.
What Is a Problem and Solution Paper?
What is a problem and solution paper? A problem and solution essay examines problematic situations in an attempt to match them with the best solution. It is also characteristic of an essay to bring the attention of the reader to an important question or conclusion derived from the arguments of the essay. For a problem and solution paper, these may come as an appeal to the reader, a request to be mindful of a problem for the sake of its eradication.
There are three core steps to take when writing a problem and solution essay:
Define the problem.
Find a solution.
Depict the result.
Define the problem
If you are writing your essay at home or at a class where you are allowed to use supplementary materials, conduct good research of the problem and its possible solutions. Explore everything that is relevant. As for the problem, mention the harm it causes and more of the potential danger it implies. Point out the negative effects of the issue, how big is their scale, who or what is prone to their influence. A brief account of the development of the problem through time may also be included. For instance, you are composing an essay about career crisis. Some things you can write about are the views on jobs in relation to age, gender, and financial benefits throughout recent history; the pressure parents put on their kids regarding their life path; harming icons of social success that clash with our sense of calling and cause that infamous cognitive dissonance when it comes to choosing a profession. Among the dangers of ignoring this matter could be, on an individual level, a failure mentality in an person as the result of inability to perform well at the job they don't like; dissatisfaction with life; and on a mass level - overall productivity of a country is lower than it could be, because one's interest in an activity, even if it's a job, is not that high when they feel out of place.
Find a solution
If your essay is more informative than persuasive, you can enumerate many or even all solutions that could possibly work. If your essay is more persuasive than informative, then out of numerous solutions, choose the ones that are reasonably most effective. Or, you might come up with a solution that is new, overlooked, or underestimated. You also have to provide necessary evidence and substantiate the benefits of the solutions you present and their advantages over other kinds of approach.
Solutions can be grouped based on the type of action that is required to carry them out:
raising awareness;
adopting laws;
providing a supply of something;
reducing the amount of something;
rebuilding the present structure of something;
teaching people;
making use of the present state of affairs;
finding a golden middle for two sides of the conflict to agree upon.
It is possible that a few types of solution to the problem will be needed for complete recovery of the situation, applied either simultaneously or each in its own time. Any measures to prevent the reoccurrence of the problem may also be mentioned. With the career crisis example, a solution can be to encourage aspirations of children at school, have seminars with parents about this issue, talk about the illusive nature of prestige, launch more government-sponsored platforms that support inventive initiatives of people who are more inclined to do creative jobs but feel like there's no future for them, et cetera.
Depict the result
Now, it is time to connect the problem to the solution like a plug to a socket, explaining how exactly this implementation will take place and help. This may also include the time span in which the solution will come into effect, the most important milestones, and possible difficulties in the process. In case you can prove that your suggested solution works in some empirical way or recreate a model situation where the solution successfully resolves the problem, these proofs will be quite useful in your essay. Either way, it is essential that your explanation of the positive outcome of the issue is satisfactory and doesn't leave the reader questioning it.
As with most of other types of essay, a problem-solution essay can be more informative or more persuasive - the writer is focused either on educating the reader and providing them useful solutions, or on having the reader realize the importance of your arguments in order to initiate the change, respectively. The spirit of your essay should specifically match your audience so that it really can get through to them. The main highlight of your problem solution paper is the goal it seeks to achieve, and this goal has to be clear-cut and transparent, starting with the introduction to the essay.
Problem and Solution Essay Structure
Problem and solution essay structure shares its main features with other types of essays while adjusting the general template to its particular tone at the same time. Two common types of any essay's structure or format are block structure and chain structure. They're used for problem and solution essays as well.
1. Block structure
In block structure, arguments that are concerned with the problem and arguments that are concerned with the solution are laid out in separate "blocks", with all the different aspects of the issue inside of them. If different aspects of the problem have corresponding aspects in the solution block, then these aspects are put in the order of their correspondence, and the general plan of the essay looks like this:
Introduction
The main body:
overall strategy;
problem aspect 1;
problem aspect 2;
problem aspect 3;
solution aspect 1;
solution aspect 2;
solution aspect 3;
outcome.
Conclusion
2. The Chain Structure
With the chain structure, those problem aspects are directly followed by their matching solution aspects:
Introduction
The main body:
overall strategy;
problem aspect 1;
solution aspect 1;
problem aspect 2;
solution aspect 2;
problem aspect 3;
solution aspect 3;
outcome.
Conclusion
The writer should pick a structure they feel more confident with or the one that makes it easier for both the writer and the reader to make links between arguments. It is good to use the chain structure when you present numerous different points in your essay, and it is undesirable to get lost among them in an attempt to connect some problematic question to its answer. The block structure is best for essays where there aren't many points of discussion and you have an opportunity to elaborate on them more broadly.
Transitional Expressions
Transitional expressions join paragraphs, sentences, and arguments together to help the reader see the relationships between different points that the essay presents. There are different transitional expressions for every kind of turn your text makes:
as well, additionally, in like manner, furthermore, besides are expressions that intend to continue the pattern of characteristics or arguments that have been explained while still adding new points to it;
expressions like on the other hand, however, but, nevertheless, on the contrary finish a preceding pattern and start a new one which sufficiently differs from the previous one;
as long as, with the purpose that, provided that, in that case narrow a pattern down to a certain condition within which it can be present, thus getting into more specific details;
hence, it follows that, consequently, on that account are the kind of expressions that show what will follow as a result of a certain course of occurrences.
Problem Solution Essay Thesis Statement
Once you have defined your goal, formulate the thesis statement that stands for that goal. Try not to be too general and dry with your language, express yourself in a manner that brings the attention of the reader to specific aspects of the problem/solution and is thought-provoking. In a way, your writing may serve to wake the readers up, encourage them to take action, or bring in a good hope for resolution. A thesis statement like "They're killing baby seals for fur, and we need to do something about it" might be awakening enough for a more sensitive reader. But first, it needs to be rendered in a bit more formal way, and second, it has to be more specific to make a point for a greater number of readers, something like: "When a human being uses intellectual supremacy they got from nature to harm it, we all are at the risk of regressing as a species. To prevent dozens of thousands of innocent creatures from being killed every year, we must engage official legislation that swore to protect our world".
Problem Solution Essay Introduction
The introduction is the space in which your thesis is presented. It has to spark the reader's interest to the problem and give them a promise of a solution, or a large step towards it at least. Invite your readers into this discussion, put questions to them, draw examples of how that problem may put sticks into the wheels of their lives, and present situations they can relate to - these are the hooks that appeal to the reader and don't let them just pass by your essay, ignoring your call. Your engagement with the audience should not be strictly intellectual but also emotional, because that is the level on which we care to fix things and make life better for ourselves and many others. In this regard, problem and solution stories may be quite effective. The thesis culminates your introduction as the main argument that represents the essence of your essay.
Problem Solution Essay Main Body
Start with a brief and concisely expressed overall plan and move on to particular points of discussion. Every new problem solution paragraph explains another aspect of your vision of the problem and its solutions. Identifying the problem, exploring solutions, and picturing the outcome all have to be done in a separate paragraph each. All these steps, in their turn, can be divided into separate sets of arguments that explain a different sub-point. Begin the main problem paragraph by outlining general ideas about the problem (do the same with the main paragraph for solutions and the paragraph for the final outcome). After such beginning, get more specific.
In your writing, use verified facts, statistics, research data, cited expert opinions, real-life examples, and your own critical thinking. If you take information from some sources (preferably, reputable enough), refer to them in endnotes or footnotes. Another integral component of every essay is transitional problem and solution sentences and expressions that serve as junctions, linking the parts of your text and making it coherent.
Problem Solution Essay Conclusion
In a problem and solution essay, the conclusion revisits the problem and looks at it now from the point of having a potential remedy for it. Yet, its negative aftermath is once again emphasized to hit home for the readers why it is that the matter is important. This is followed by one more quick look at the plan for a solution. A brief résumé of all the main points of your essay is supposed to prove your thesis. The very ending of the text is the final tool in forming the impression from your problem solving essay that will linger in the mind of the reader. Properly written, it may influence your audience well enough to have them participate in the solution to the problem you have exposed and find other methods to win over it themselves. It can also stimulate the reader if you warn them about a possible negative scenario that might take place if no timely action is taken to handle the issue. However, do not get overdramatic to the point of making your readers feel doomed. For example, a concluding sentence such as "If we don't resolve this problem, it will be very, very bad, and we'll feel ashamed of ourselves when looking in the eyes of our children" is not appropriate to finish your essay with. It is best to turn the reader's attention to a positive outcome that can be achieved if we properly address the problem, but do that in a way that is assertive enough: "The fate of the world we live in is always in our own hands: if we want to build a better future, the time is now".
A problem and solution essay may be a part of a bigger essay or stand on its own. In both cases, an essay of such kind has four essential components that make it what it is:
Difficult situation.
The core problem in its root.
Possible solutions and best solutions.
Estimation of the result after solutions are applied.
The difficult situation may be already described in the assignment. Otherwise, give a concise account of it in the introduction of your essay. Estimation of the result can be done at the end of the main body or in the conclusion. For short essays, these two elements may not be required at all but rather be used in another specific type of essay of which a solution proposal is a part.
Summary
This kind of essay, a written problem and solution speech, is similar to some other types of essays - in particular, the cause and effect essay. When the focus of a cause and effect essay is on negative results of something, its investigation of the reasons behind those results is much like a discussion of detrimental effects caused by a problem in a problem and solution essay. These two types of expository papers can, to some extent, be essential parts of each other. Yet, each of these essays has a defined focal point, which is, obviously, either expounding on causes and effects, or doing so specifically with the purpose of eliminating those causes and effects when they create a problem.